Prevention Plus Wellness, LLC
Regular price
$ 249.00 USD
Regular price
Sale price
$ 249.00 USD
Unit price
per
Sale
Sold out
Prevention Plus Wellness (PPW) Online Self-Paced Program Implementer Training is designed to give participants the knowledge, confidence and skills to provide PPW programs with quality, fidelity and effectiveness.
PPW Program Implementer Training is an online format that allows prevention and health specialists, teachers, coaches and youth peer leaders to complete the training individually on their own schedule and pace.
During this training participants will be asked to consider how they will implement their PPW program and practice skills to do so. 
A Certified PPW Program Trainer facilitates participants interaction through the program sections, discussions and assignments.
A 3-year certificate is provided upon completion of the training course.
Training objectives include:
Describe the critical need for brief, integrated substance use Prevention Plus Wellness programs targeting healthy lifestyle promotion, theory and research supporting them, and their unique components.
Determine how to correctly implement a selected Prevention Plus Wellness program to individuals (one-on-one) and groups using the program scripts.
Review how to implement pre-posttest surveys and other evaluation tools for monitoring and assessing program fidelity, quality and efficacy.
Explore online Prevention Plus Wellness resources for promoting and enhancing your PPW program.
To register for a training workshop, simply order your online training workshop (program materials not included).
Once you are ready to begin, email us and we'll send you the link to register and begin taking your course(s).  
Participants have a 14-day period from when they register to complete the approximately two hour interactive online training which is designed to walk individuals through PPW core knowledge and program materials.
Learn more about the Unlimited PPW Program Training License to cost-effectively train large numbers of individuals in your region: 
For more information, email or call us: info@preventionpluswelllness.com or (904) 472-5022.

Share
View full details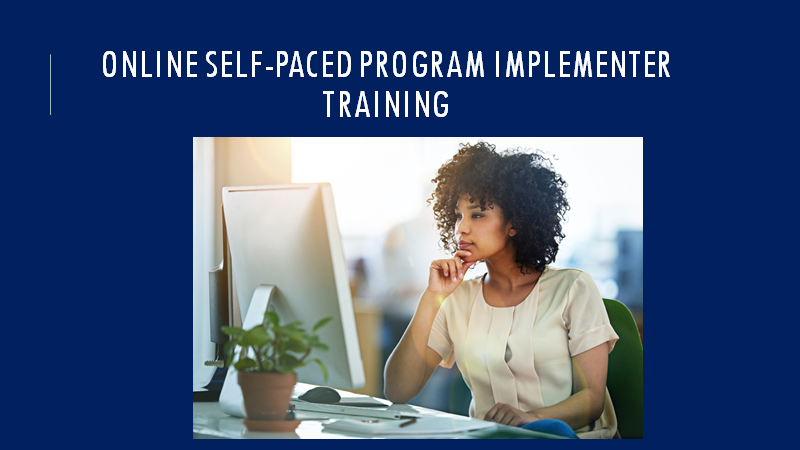 Online Self-Paced PPW Program Implementer Training