Prevention Plus Wellness, LLC
Regular price
$ 1,999.00 USD
Regular price
Sale price
$ 1,999.00 USD
Unit price
per
Sale
Sold out
The Unlimited Prevention Plus Wellness (PPW) Program & Training License is the best choice if you plan to order three or more PPW programs and training or if you and your organization want unlimited online access to any PPW youth or parent program or media campaign as well as to our online program implementer training portal for 1-3 years (5-years is available upon request).
The Unlimited PPW License allows you to share your Prevention Plus Wellness digital program manual and/or materials with an infinite number of prevention or health agencies, specialists, teachers, counselors, coaches, parents, or youth leaders to present the program.      
Send them the link to the PPW Training Portal to take a self-paced online course to become certified to implement your PPW program with fidelity and maximum effectiveness.
Team up with other organizations or agencies in your region to limit your costs while increasing the number of PPW programs everyone can access.  For example, if two organizations order one license each, they can share each other's licensed materials and training!
Now you can provide Prevention Plus Wellness programs and campaigns to providers across your entire organization, county, or state cost-effectively. 
Each program license includes:
Access to an online pdf of the program manual or materials to use during implementation
Online access to downloadable program PowerPoint slides and all reproducible materials
Permission to share the program manual and/or downloadable materials access link to an unlimited number of agencies and individuals within your region
Online access to self-paced PPW Program Implementer Training Courses via the PPW Program Training Portal with 3-year certification provided
Permission to share the training portal link to an unlimited number of individuals
Access to program updates at no cost during the license period
Customized link/QR code to online pretest and posttest surveys and the Instructor's Survey to evaluate program quality and effectiveness
The Unlimited PPW Program & Training License comes in one-, two- or three-year options (5-years available upon request). 
Multiple license discounts are available making them affordable and sustainable.  Discounts include: 
2-5 program licenses get 15% off. Use discount code 15%License upon checkout.
6-9 program licenses get 20% off. Use discount code 20%License upon checkout.
10 or more program licenses get 25% off. Use discount code 25%License upon checkout.
A written Vendor Agreement is available upon request.
Permission to make large numbers of photo copies of program manuals is available for sale with a license.  Contact us for more information. 
*Note: Program use and distribution limited to one county or school district location.  For more information: info@preventionpluswellness.com or call: (904) 472-5022.

Share
View full details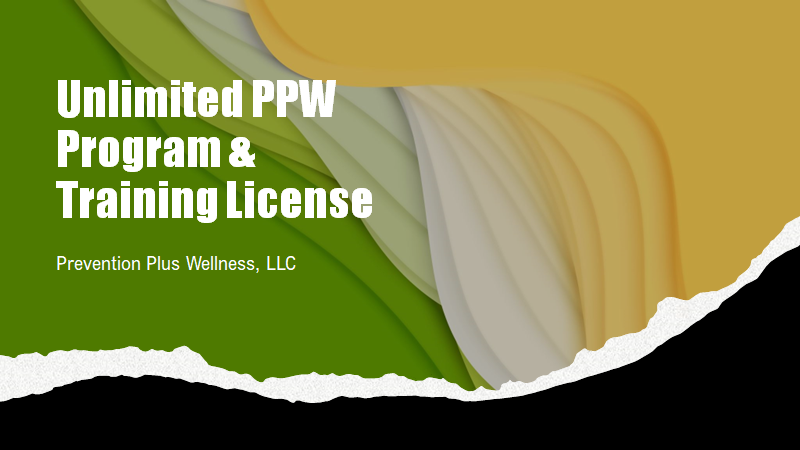 Unlimited PPW program and Training License. Fantastic!
Unlimited PPW program and Training License would go a long way in addressing substance use prevention issues.The program will change the mindset of young adults on substance use and make them focus on more meaningful ventures especially, sports.It will reduce harm and incidences of drug abuse.